How does an FFP2 Mask work?
How does such a mask work and what does the FFP designation mean?
Respiratory protection masks help protect our airways from the penetration of harmful microorganisms and particles.
This type of mask protects our respiratory organs from smoke, dust, aerosols and microorganisms and thus provides us with effective protection against COVID-19 infection. Its protective function is standardized in Europe according to the EN 149 standard. The product itself must also be provided with the necessary certificate attesting that it has passed safety, efficacy and quality tests.
THE BASIS OF PROTECTION IS A GOOD FILTER
The mask can be made of different filter materials, which have one thing in common: they can capture an adequate amount of harmful particles from the air. Therefore, an effective filter is the most important part of a mask.
In the following video, the principle of operation of this type of mask is visually explained. Although it refers specifically to N95s, the mechanism is exactly the same for FFP2s: the particles are trapped in the fiber when touched like a spider web. Plus one key feature: electrostatic filters act like a magnet, attracting particles that might otherwise escape.
CLASSES OF MASKS ACCORDING TO THEIR EFFICIENCY
Respiratory protection masks are manufactured in three filtration classes: FFP1, FFP2 and FFP3, while the abbreviation FFP itself comes from the English term "Filtering Face Piece". 
Before purchasing, you need to know what the mask will be used for (that is, what it should specifically protect us from), and then adjust your choice accordingly. If you want to protect yourself against COVID-19, choose class COVID-19, FFP3 or FFP2 masks (you should bear in mind that only some masks of this class can filter particles the size of the coronavirus). If you work in a dusty environment and want to protect your respiratory tract, a mask of the FFP1 class will offer sufficient protection.
FFP1 mask
These masks protect against larger dust particles and aerosols, which is why they are used, for example, in construction, but they will not protect us from COVID-19! Class FFP1 masks must trap at least 80% of airborne particles.
FFP2 mask
They protect against the finest dust and aerosol particles, and when these masks can filter 0.11 µm particles (COVID-19 coronavirus particle size), they provide effective protection against the virus. Class FFP2 masks must capture at least 94% of airborne particles.
COVID-19 mask (under regulation PPE-R / 02.075 version 2)
These masks are manufactured only for the protection of COVID-19, following the recommendations of the World Health Organization. For this specific use, the nominal protection factor provided by these filter half masks is the same as the nominal protection factor FFP2 defined in EN 149: 2001 + A1: 2009.
PPE-R / 02.075 version 2 is a test scheme for self-filtering masks based on the EN 149 standard, in which several sections of the EN 149: 2001 + A1: 2009 standard are applied, including the filter penetration test using an aqueous spray of NaCl. Masks conforming to this specification comply with the Health and Safety Requirements of Regulation (EU) 2016/425.
GOOD MASK COVID-19 masks belong to this group, and provide very effective protection against coronaviruses.
According to the results of the tests carried out by AITEX, the average filtration efficiency of our mask is 98% (average penetration at 120 mg of sodium chloride 3.5 min: 1.9%)
They are certified according to the EN 149: 2001 + A1: 2009 standard, modified by RfU PPE-R / 02.075 by the notified body 0161 (AITEX). CE 0161 marking according to the requirements of the European Directive 89/686 / ECCEN.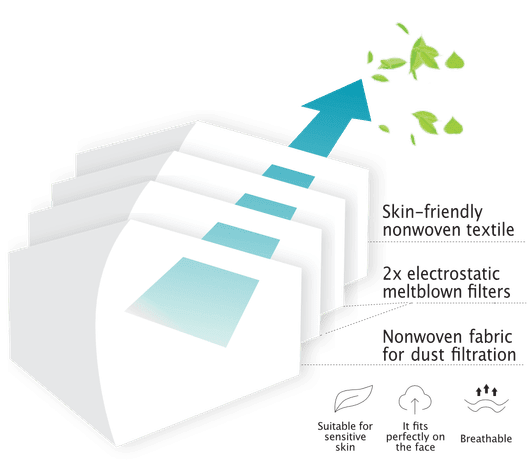 FFP3 mask
It serves as the most effective protection against bacteria, viruses (thus also against a new type of coronavirus), mold spores and toxic fine particles. Class FFP3 masks must capture at least 99% of the particles in the air, and their main drawback is their low breathability, which makes breathing difficult and can result in a shortness of breath feeling when used for a long time.
Comments (5)
Lynn W. Martin 03.01.2022
I am pleased with this FFP2 Mask and especially because I received information regarding small partials of harmful materials in other masks on the market.
Geoffrey Auckland 13.01.2022
It is not stated anywhere but presumably the term 'half mask " relates to its use for mouth and nose protection and not the eyes ?
GOOD MASK International 17.01.2022
Your assumption is correct, Mr. Auckland. The term half masks refers to PPE only covering mouth and nose, not eyes, and it is defined as such in European standards EN 140 and EN 149:2001+A1:2009.

For more detailed information, you can consult:
https://www.safeopedia.com/definition/911/half-mask
https://www.eu-esf.org/covid-19/4647-covid-19-is-a-mask-a-mask

Thank you for your comment!
GOOD MASK International
ROBIN 06.02.2022
I just bought FFP2 MASK ARE THEY GOOD PROTECTION AGAINST THE COVID 19 VIRUS
GOOD MASK International 21.02.2022
Hello Robin, thank you for your comment. FFP2 masks offer a good protection against COVID-19 infection, but it is very important to adjust them properly. Here's an article with some good insight, a team from the Max Planck Institute for Dynamics and Self-Organisation in Göttingen has investigated to what extent masks protect under which wearing conditions.

https://www.mpg.de/17916867/coronavirus-masks-risk-protection