Which mask offers the best protection?
Do you know the difference between the different types of masks on the market?
Which mask offers the most adequate protection?
A few months ago, respiratory protection masks (PPE) were used as a work tool to protect the respiratory tract from dust, dirt and dangerous particles in industry, DIY and construction. And surgical masks belonged solely to the healthcare field.
Today, masks and personal protective equipment are at the forefront in the global fight against the COVID-19 pandemic, helping to protect the health not only of health workers and people on the front line, but also of all those who need more protection.
WHAT IS THE DIFFERENCE BETWEEN HYGIENIC MASKS, SURGICAL MASKS AND RESPIRATORY PROTECTION MASKS?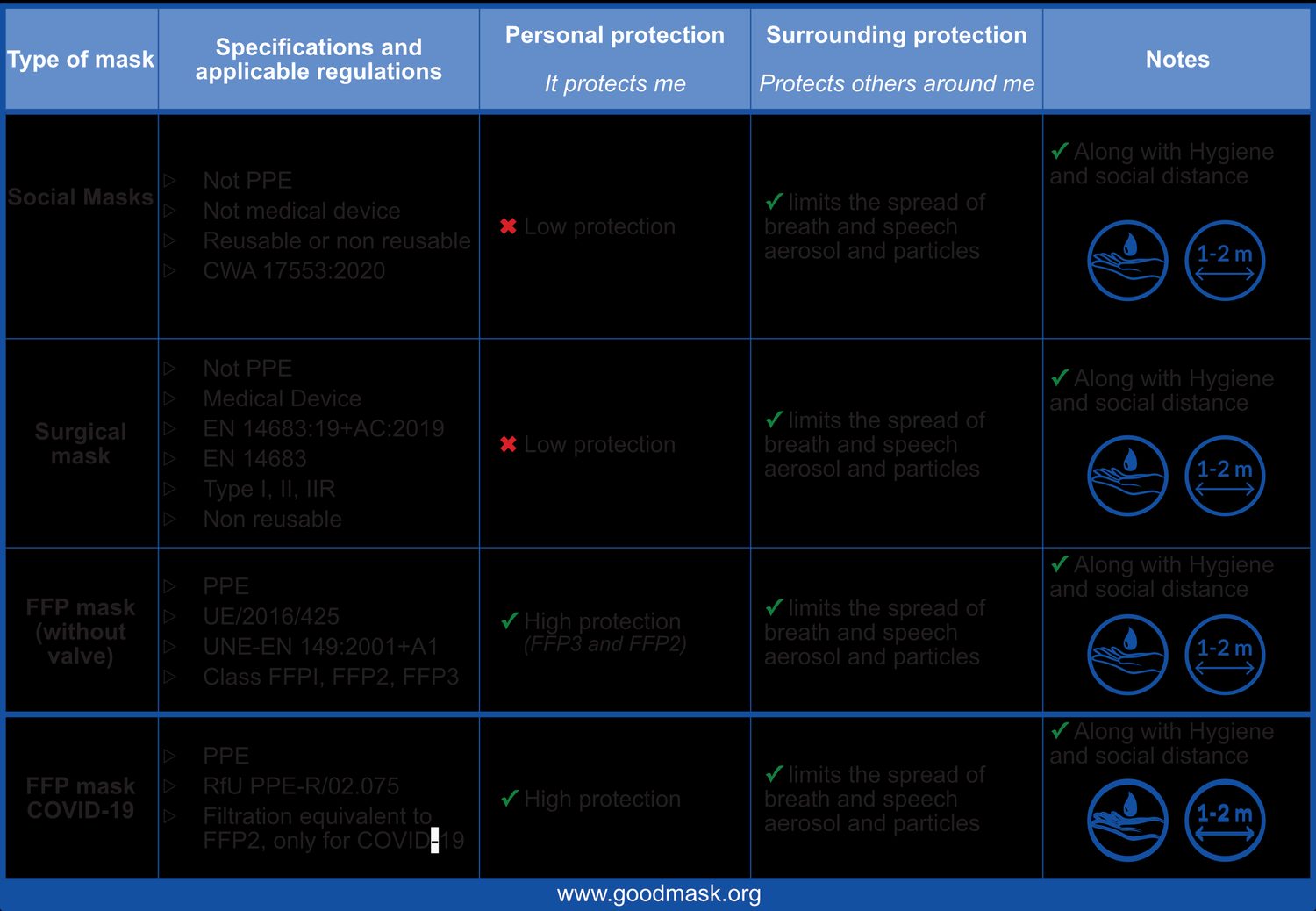 Although they are all used in a similar way and are a complement to the recommended distancing and hygiene measures for healthy people, their protective function is very different and therefore it is good to know their basic differences.
Hygienic masks
Hygienic masks do not have to comply with any regulations, although to ensure that you buy masks with a minimum of filtration efficiency, it is advisable to choose masks that comply with the UNE 0064 or UNE 0065 regulations in Spain, or CWA 17553:2020 for all of Europe. 
UNE 0064 Hygienic not reusable: filtration ≥ 95%, breathability <60 pa / cm2
UNE 0065 Reusable hygiene: filtration ≥ 90%, breathability <60 pa / cm2. They must withstand at least five washing and drying cycles while maintaining their performance
CWA 17553:2020 Disposable or reusable: Filtration >90% or >70%, breathability <70 pa / cm2
Surgical masks
Surgical masks are those used mainly in the health field. They are manufactured in accordance with the EN 14683 standard and are classified according to their Bacterial Filtration Efficiency (EFB):
Type I: filtration> 95%, breathability <40 pa / cm2, microbial cleanliness (cfu / g) ≤30
Type II: filtration> 98%, breathability <40 pa / cm2, microbial cleanliness (cfu / g) ≤30
Type IIR: filtration> 98%, and breathability <60 pa / cm2, splash resistance, Microbial cleanliness (cfu / g) ≤30
Surgical masks offer greater breathability than hygienic and FFP masks.
Respiratory protection masks: PPE
Respiratory protection masks are manufactured in three filtration classes: FFP1, FFP2 and FFP3, while the abbreviation FFP itself comes from the English term "Filtering Face Piece".
FFP1: Filtration ≥ 80% does NOT protect against COVID-19.
FFP2: Filtration ≥ 94% protects against COVID-19
FFP3: Filtration ≥ 99% protects against COVID-19
COVID-19 mask (PPE under PPE-R / 02.075 version 2)
These masks are manufactured only for the protection of COVID-19, following the recommendations of the World Health Organization. For this specific use, the nominal protection factor provided by these filter half masks is the same as the nominal protection factor FFP2 defined in EN 149: 2001 + A1: 2009.
PPE-R / 02.075 version 2 is a test scheme for self-filtering masks based on the EN 149 standard, in which several sections of the EN 149: 2001 + A1: 2009 standard are applied, including the filter penetration test using an aqueous spray of NaCl. Masks conforming to this specification comply with the Health and Safety Requirements of Regulation (EU) 2016/425.
GOOD MASK COVID-19 Masks belong to this group, and provide very effective protection against coronaviruses.
According to the results of the tests carried out by AITEX, the average filtration efficiency of our mask is 98% (average penetration at 120 mg of sodium chloride 3.5 min: 1.9%)
They are certified according to the EN 149: 2001 + A1: 2009 standard, modified by RfU PPE-R / 02.075 by the notified body 0161 (AITEX). 
Given the overwhelming evidence that COVID-19 is spread by aerosols, well-fitting FFP2 or COVID-19 masks are positioned as the best alternative to protect ourselves from possible infection, along with hygiene and distancing measures. Both masks are indicated for use in healthcare environments, hospitals and in contact with patients infected with COVID, or in any situation where there is a significant risk of exposure to the SARS-CoV-2 virus. They are especially suitable in crowded and / or poorly ventilated interiors, or when other people do not use their masks correctly (without covering the nose, resting on the forehead or chin, etc.).
⚠ FFP mask with exhalation valve
The exhalation valve makes it easier for exhaled warm air to escape, however, valve masks have the disadvantage that the valve itself does not provide filtering and, if the user is already infected, it spreads the infection freely to their environment through The valve. Therefore, they are NOT indicated for use in a pandemic.
Comments (0)