Producer: GOOD MASK
Product code: P1663
Availability: Stock
2.00 € 0.74 €
price per piece
Product description
WHY NANOMATERIAL?
ULTRA-THIN - ideal for hot summer days + less waste = less burden on the environment
Packaging: 10 pcs
High degree of filtration efficiency - it is not necessary to use a large amount of additional material in the other layers of the filter. There is therefore a significant reduction in the weight of the respirator which at the same time offers very good breathability.
It will be particularly appreciated by the elderly, athletes and anyone who uses a respirator for a long time in the exercise of his profession.

MECHANICAL PRINCIPLE OF FILTRATION – moisture does not reduce the filtration efficiency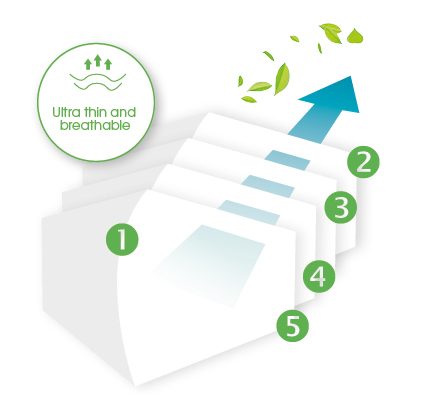 EXTREMELY HIGH EFFICIENCY - Filtration efficiency> 95% for sars-CoV 2 coronavirus particles (80–140 nm)
RESPIRATOR FFP2 NR, product code GM2 NANO is a 4-layer respirator with the following layers:
inner clip for fixation around the nose, rubber band
skin-friendly non-woven fabric
PVDF nanofiber membrane
spunbond-meltblown
nonwoven composite
Price listed for 1 pc. Sold in packages of 3 pcs, 5 pcs and 10 pcs.
For reasons of hygiene and health protection, it is not possible to return the merchandise within 14 days.
Attachments to download:
CE Certificate GM2 NANO FFP2 NR
Declaration of conformity CE1024 NANO
Final Report Certificate č.1024/ZZ-032/2021
Garment care
| Specification | Description |
| --- | --- |
| Category | Respirátory FFP2 |
Similar products