Producer: GOOD MASK
Product code: P1664
Availability: Stock
9.00 € 3.72 €

Product description
WHY NANOMATERIAL?
ULTRA-THIN - ideal for hot summer days + less waste = less burden on the environment
Packaging: 5 pcs
High degree of filtration efficiency - it is not necessary to use a large amount of additional material in the other layers of the filter. There is therefore a significant reduction in the weight of the respirator which at the same time offers very good breathability.
It will be particularly appreciated by the elderly, athletes and anyone who uses a respirator for a long time in the exercise of his profession.

MECHANICAL PRINCIPLE OF FILTRATION – moisture does not reduce the filtration efficiency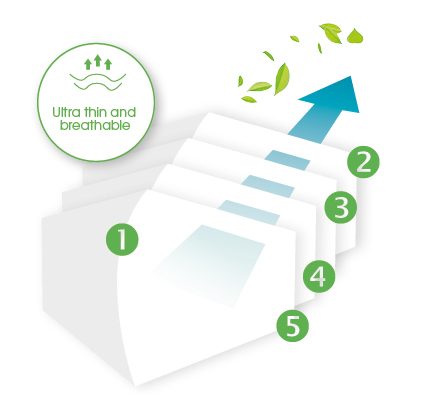 EXTREMELY HIGH EFFICIENCY - Filtration efficiency> 95% for sars-CoV 2 coronavirus particles (80–140 nm)
RESPIRATOR FFP2 NR, product code GM2 NANO is a 4-layer respirator with the following layers:
inner clip for fixation around the nose, rubber band
skin-friendly non-woven fabric
PVDF nanofiber membrane
spunbond-meltblown
nonwoven composite
Sold in packages of 3 pcs, 5 pcs and 10 pcs.
For reasons of hygiene and health protection, it is not possible to return the merchandise within 14 days.
Attachments to download:
CE Certificate GM2 NANO FFP2 NR
Declaration of conformity CE1024 NANO
Final Report Certificate č.1024/ZZ-032/2021
Garment care
| Specification | Description |
| --- | --- |
| Category | Respirátory FFP2 |
Comments (2)
Not rated
Robert 11.02.2022
Best mask ever, thin and very comfordable. Unfortunately thy are stamped with 'CESKY RESPIRATOR'. Just only 'Made In EU' would be preferred by me. So I have to cancel the letters 'CE' to get sky respirator.
Not rated
GOOD MASK Team 21.02.2022
Hello Robert, thank you for your comment! Sky Respirator would be indeed a very nice name, we are glad you find our NANO masks comfortable. Have a nice day!
Similar products